lugares de interés
Whether you're walking, biking, or rollerblading, there's plenty to see along the LA River.
There are eclectic neighborhoods, historic bridges, over a hundred species of birds, numerous fishing holes, sections with trees and plants and grasses, dozens of adjacent parks and playgrounds, some public art, passing railcars and much, much more.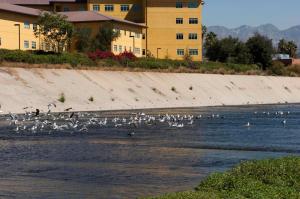 Worth noting: from Studio City to Griffith Park, the LA River passes five movie studios: CBS, Universal, Warner Brothers, Disney, and Dreamworks.  In some cases, the studios occupy both sides of the channel.  In the early days, before the concrete channel was built, moviemakers on the back lots wouldsimply turn their cameras around and film inside the river, using it as a setting for westerns. Since then, over a hundred films and TV shows have continued to use the LA River as a location.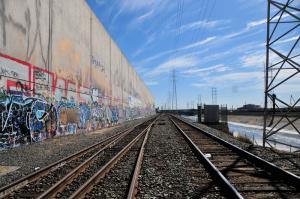 Although some may consider the railroads that parallel the riverbed more of an eyesore than an eye-full, train enthusiasts feel otherwise. The Southern Pacific, Santa Fe, Union Pacific and Metrolink trains traverse these tracks daily.  For some historical information on railroading on the River, click here.
View
Sightseeing
in a larger map