montar a caballo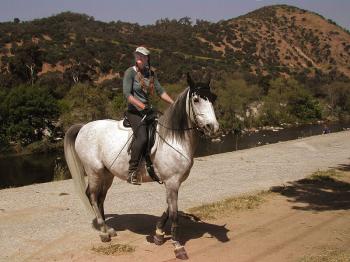 You'll be hard-pressed to find a better horse city than Los Angeles, particularly in a major metropolis with millions of residents.  The climate, the landscape and the local history make it a top destination not only for horse riding, but also for  noteworthy equine activities throughout the year.

In 1940s and 1950s, the heyday of horses on both the small and the silver screen, The Lone Ranger, Hopalong Cassidy, Shane and Mister Ed were household names.  Forest Lawn Cemetery was a ranch with a creek running through it from which cowboys saddled up each morning, rode across the bridge to the Warner Brothers and Universal studios, and took part in a steady regimen of work. Also starring in the Westerns of the day was the LA River, its pre-concrete riverbed often used to shoot Westerns in the early days of cinema.

Nowadays there isn't the same focus upon horses, but their presence is permanently embedded in local culture.    Whether you want horse-related options along the LA River, or on one of its tributaries, use our guide to find a stable to rent from and a trail to follow.  For a listing of the trails in other parts of the city, go to LATrails.com.
View
Horse Riding
in a larger map