Imagine the Possibilities
Imagine a riverbed with temporary dams that create ponds for boating and rapids for kayaking.
Imagine riverbanks with restaurants, music festivals and nightlife.
Imagine a river with skateboard parks and dog parks and soccer fields along its banks.
Imagine scenic river walks to observe great blue herons nesting in the willows, where you can fish for steelhead trout or sit on shaded benches, watch clouds reflected in the river's current, and listen as frogs croak along its banks.
Imagine 52 miles of greenway that bring Los Angeles together, that help restore the environment and nurtures the soul.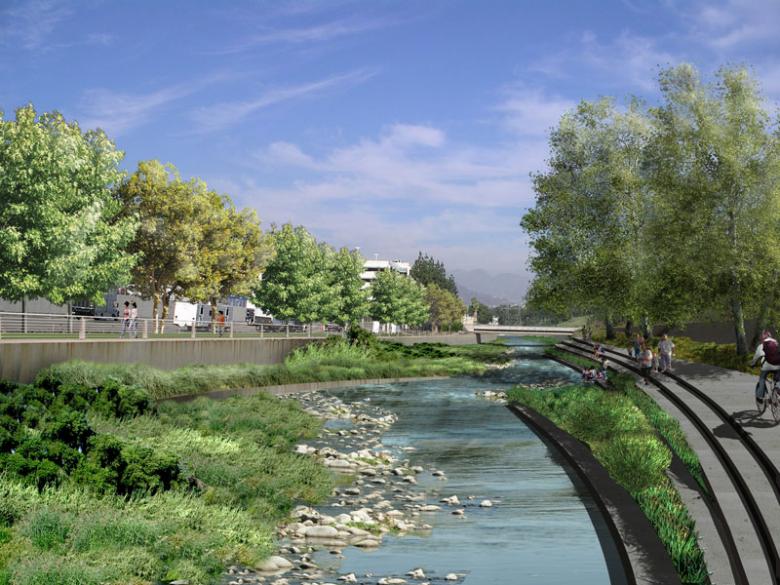 There are many reasons to revitalize the historic Los Angeles River. Open space creation, rainwater reclamation, neighborhood revival, expansion of recreational activities, aquifer replenishment, and job creation. Perhaps the most important rationale has been best articulated by author D.J. Waldie:
"As we begin to encounter the river as a place, not as abstraction, we encounter each other. The riverbank is not the perfect place for this meeting, but it's the only place we have that extends the length of metropolitan Los Angeles and along nearly all the borders of our social divides. Think of the river we're making as the anti-freeway—not dispersing L.A. but pulling it together."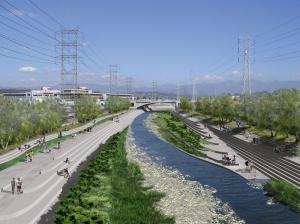 Many of the world's greatest cities, including Los Angeles, were started along rivers. Their historical foundations brought people together in sitings nurtured by the waters. Over the course of the cities' growth however, industrial expansion and poor planning left their riverfronts as commerce hubs rather than as scenic public spaces.  Today, many cities have fought back and reclaimed their riverfronts, building civic spaces to replace old warehouses, factories and roadways. With parks, plazas, commons and piazzas for people to gather and mingle and express themselves in, restaurants and shops to enjoy, apartments and office buildings to live and work in, cities have transformed their blighted riverfronts into centers of urban vitality. 
Los Angeles has been late to rediscover its own LA River, yet in the last twenty years, it has begun its own river revitalization, producing cleaner water, new parks, walks and bike paths. These infrastructure upgrades have, in turn, led to improved recreation and increased civic pride.
These changes represent just the beginning of decades of work and many hundreds of millions of dollars of investment.  The opportunities ahead are even greater…and the challenges more daunting.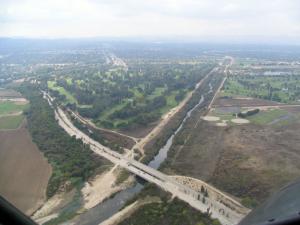 From the river's narrow headwaters in Canoga Park, through the green corridor of Glendale, around the hills of Griffith Park, through the Arts District of downtown LA and the industrial core of South LA, to its end in the ocean in Long Beach, the LA River today is the city's last great frontier. It's the only remaining place on a large scale to carve out open space and create significant new recreational and redevelopment opportunities while improving the quality of our lives, and of our environment.
To re-imagine the LA River is to re-imagine Los Angeles itself. It's a unique chance to redefine our civic space, to join together neighborhoods and communities, and to reconnect residents to their landscape and its history.
Whether it's with inflatable dams that create in-channel lakes, or concrete removal to make room for landscaping and seating on the channel banks, or a series of mix-use spaces with outdoor cafes, riverside night clubs and unique shops, a transformation awaits. To restore the LA River is not to return it to its untamed past. It's a brand new vision, a solution as unique as Los Angeles itself.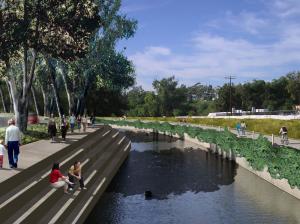 The restored LA River will be healthier for plants, fish and animals, and people as well. It will be an artery that attracts residents and visitors from all walks of life, a destination where the sounds of moving water mix with the shouts of children at play, where fishermen can share the banks with bird watchers, and where iPod-wearing roller-bladers glide by sun worshippers sipping a double espresso at an outdoor cafe.
---
Currents of Change
Ever since it was encased in cement beginning in 1930's, the LA River has been an eyesore. Reduced to a concrete conduit for water runoff, isolated from public access and visibility by the rail yards and industrial sites, freeways and factories that grew up along its banks, the river channel was neglected as the city literally turned its back on its historic waterway. Most residents came to forget that they even had a river.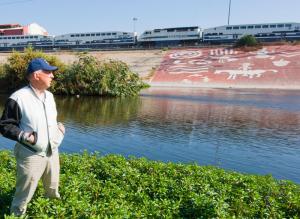 In the mid 1980's efforts to restore the Los Angeles River began in earnest when the poet, Lewis McAdams, co-founded the advocacy group, Friends of the Los Angeles River, also known as FoLAR.
In 1989, then-Mayor Tom Bradley established the city's first LA River task force, to explore potential improvements. 
The County of Los Angeles formed its own revitalization task force in 1990 and nine years later adopted an Los Angeles River Master Plan.
In 2005, voters approved Prop 0 to speed the clean-up of the river's water via the funding and installation of 8,000 street drain inserts, and 6,000 covers to keep trash out of the river channel.
In 1992, voters passed Proposition A, which gave LA County the funds to provide new river access via parks and bike trails. A second infusion of funds was approved in 1996. 
In 2002, under the leadership of City Councilman Ed Reyes, the LA City Council established an Ad Hoc Committee on the Los Angeles River. The committee continues to serve as a coordinator for river projects such as access, open space and recreation within the city limits.
The Santa Monica Mountain Conservancy (SMMC), a state agency founded in 1980, began using its resources to acquire open space and create parks along the river.
Other prominent nonprofit groups joined the revitalization effort including Tree People and the Trust for Public Land.
Local universities added departments that have studied the needs of the river, including USC's Center for Sustainable Cities, and UCLA's Institute of the Environment and Sustainability, and La Kretz Center for California Conservation Science.
In 2005, the City of Los Angeles saw the need to create a more comprehensive plan for the 31 miles of riverfront within the city limits. It hired Tetra Tech, a consulting firm, to analyze and collate existing studies by city agencies, consultants, elected officials, architects and engineers. The result was the extensive and visionary document adopted by the City Council in 2007, The Los Angeles River Revitalization Master Plan.
"Six decades after the Los Angeles River was first channelized, the City of Los Angeles faces an unprecedented opportunity to reverse the past and re-envision the River as the soul of the City. … This Plan acknowledges that great and transformative change may not be accomplished in one lifetime, yet it must remain in the minds of the people who will carry it forward. Thus, the Plan includes bold long-term visions, but also nearer-term steps that will make the River a valuable, celebrated place."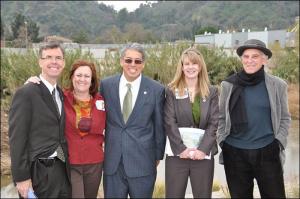 Among the master plan's key recommendations was the creation of a full-time LA River office to oversee the implementation. Dr. Carol Armstrong was hired to run this office, which exists within the city's Bureau of Engineering.
The master plan also recommended the formation of a private, non-profit Los Angeles River Revitalization Corporation (RRC), made up of private-sector entrepreneurs, to lead the riverside land development.
There are miles to go before the tipping point of revitalization of the LA River is reached. But as we work together, residents and investors and civic agencies, joined in purpose to restore and revitalize our historic river, that day will come. The Los Angeles River will bring us – and our city – together. Again.