Los Angeles River Revitalization Corporation
The Los Angeles River Revitalization Corporation (RRC) is a non-profit corporation charged with promoting responsible development, redevelopment, and revitalization of properties along the LA River corridor in accordance with the Los Angeles River Revitalization Master Plan. This includes parks, open space, mixed-use buildings, retail opportunities, housing, and business space.
The RRC was formed in December 2009 as the outgrowth of the recommendation from Los Angeles River Revitalization Master Plan. In 2009 and 2010, Mayor Antonio Villaraigosa, Councilman Ed Reyes and Council President Eric Garcetti appointed the initial board of directors, who are all volunteers. Start-up funding for the organization came from CRA-LA. Additional funding will come from a variety of city, state, federal, foundation and private sources.
The RRC does not have any land-use authority or powers to implement eminent domain proceedings. Instead, it is working cooperatively and transparently with public and private stakeholders to carry out its mission. Its efforts are concentrated in the area covered by the Los Angeles River Implementation Overlay district (LA-RIO), and other similar districts, if subsequently established.
---
Our Mission
The RRC strives to improve the quality of life in Los Angeles by revitalizing the L.A. River corridor with sustainable land development projects.


Our Goals
To advance urban revitalization, economic development and job creation, and facilitate recreation, habitat restoration, improved water quality, open space, and community connectivity adjacent to the Los Angeles River, specifically by:
Implementing, advocating for, and providing support to efforts consistent with the Los Angeles River Revitalization Master Plan.
Creating projects that attract and engage riverside residents, employers, and the larger Southern California community.
Leveraging acquisition, development, management, and disposition of real property, both land and structures.
Serving as agent to the city of Los Angeles and its Community Redevelopment Agency (CRA/LA) for funding, land transfers, or development rights transfers.
Collaborating with public and private agencies and organizations to facilitate community activity and sustainable development.
Building and maintaining an efficient, effective and self-sustaining organization.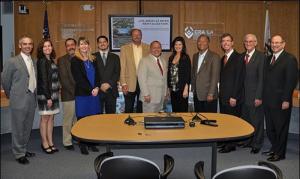 Inaugural LARRC Board meeting 12/09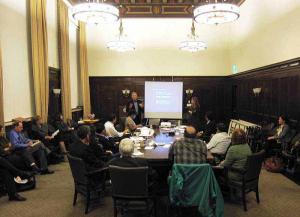 LARRC Board meeting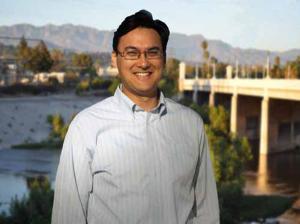 Executive Director, Omar Brownson