Parks
49 riverside parks await your enjoyment!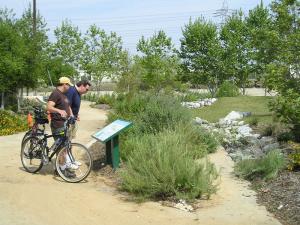 As part of the effort to revitalize the Los Angeles River, Los Angeles city and county agencies have joined with the California state government and local environmental groups including the Santa Mountain Mountains Conservancy (SMMC) and North East Trees (NET) to break ground or open new parks along the river and its tributaries. These new pockets of open space join larger, more established areas like Griffith Park, the Whittier Narrows Recreational area and the Sepulveda Basin.  The planners' goals have beentwo-fold: to provide much needed green space, sports fields and playgrounds, and to reestablish wetlands and wildlife habitat.  Vacant lots, old warehouses and under-used rail spurs have provided land for the park conversions.  A few more parks are now in the construction phase, and many more are being proposed. They're a string of jewels, located along the Los Angeles River Greenway.

 
Hansen Dam Park - The Hansen Dam is, essentially, one large park. There is an aquatic center, a recreational center, horse trails and more.
Reseda Park – This medium size park spans both sides of the LA River. Located at the intersection of Victory and Reseda Boulevards, it features picnic tables, volleyball and basketball courts, a baseball diamond and a swimming pool.
Sepulveda Basin Recreation Area – This is a gorgeous, spacious area with multiple parks, ample facilities, bike paths and one of the few soft-bottom sections of the River.
Anthony C. Beilenson Park - This is an 80 acre water recreation facility within the Sepulveda Flood Control basin. The centerpiece of the park, Lake Balboa, is a 27 acre lake filled with water reclaimed from the Tillman Water Reclamation Plant. Recreation activities include fishing, boating, remote-control boating and jogging/walking.
Castle Park - A miniature golf course and batting cage border the river.
Woodley Avenue Park - Features include a children's play area, picnic tables, barbecue pits, baseball diamond, Apollo 3 flight field, archery range, cricket fields, wild life reservation area, and restrooms.
Moorpark Park – On the corner of Moorpark Street and Laurel Canyon Boulevard, this park is on the Tujunga tributary, not far from its confluence with the LA River.
Weddington Park South – Located at 10800 Valley Heart Dr. in North Hollywood.
North Weddington Recreation Center – Located at 10844 Acama Drive in North Hollywood. It has picnic tables, handball courts, a baseball diamond and an indoor gymnasium.
Johnny Carson Park  – This park is on Bob Hope Drive in Burbank, right down from the NBC studio that Johnny called home for years on the Tonight Show. It offers picnic tables, a playground area, rest rooms and a fitness course. 
Bette Davis Picnic Area – This small picnic ground, just east of the L.A. Equestrian Center, is named after the film star who reportedly lived in one of the large houses along Rancho Avenue, across from the park.
North Atwater Park - Located across from Griffith Park on 3900 W. Chevy Chase Drive, just off the Colorado Street exit of the 1-5 Freeway, this small park offers volleyball and basketball courts, a baseball diamond, as well as restrooms and a children's play area.
Griffith Park – With over 4,210 acres, this is the largest park in LA. It offers ample parking and numerous bike paths for the LA River.
Rio de Los Angeles State Park  - This 17+ acre park, opened in 2007, offers open space, soccer fields, restrooms, and a natural habitat hiking path. It is currently separated from the river by railroad tracks and the Taylor railyard. In the future, the plan is to connect it to the Taylor Yard and river.
Elysian Valley Pocket Parks: The Santa Monica Mountain Conservancy has built a number of small parks along the Elysian Valley section of the River.

Elysian Valley Gateway Park – This grassy mini-park on Knox Avenue is a half-acre triangle with access to the adjacent soft-bottom section of the LA River.
Rattlesnake Park - Located just off Fletcher Drive, this pocket park features the Great Heron Gates, an artistic interpretation of the wildlife of the LA River,  designed by sculptor Brett Goldstone.
Steelhead Park – The wrought iron fence around this park is adorned with a steelhead trout, the LA River's native fish. Located on the river at Oros Street, the park features a small outdoor amphitheater.
Oso Park -  At the corner of Riverside Dr. and Oros St, this small community park features sculptures of the wildlife that once roamed the river. [insert photo: LAR_0503]
Egret Park – Perched between Riverside Drive, the I-5 Freeway and the LA River, this small park features river access and a variety of native plants.
River Garden Park - Located at the northern tip of the Los Angeles River Center and Gardens, this small park adds much need green space to the confluence area.
The Los Angeles River Center – A mission-style facility located near the confluence of the LA. River and the Arroyo Seco, the LA River Center is the site of the former Lawry's Restaurant Center.  Today the Center offers a bicycle staging area with drinking fountain, a repair station and restroom, as well as a visitor center about the River, and a picnic, garden and park area.
Los Angeles State Historic Park (The Cornfields) – Although it doesn't yet connect to the LA River, this 32-acre park located below Dodger Stadium will, in the second phase of its construction, create a more designed space and offer .connections to the west bank of the LA River channel.
Maywood Riverfront Park – Located at 60th Street and Walker Avenue in a densely-populated part of Maywood, this small park is stone's throw from the LA River. Efforts are underway to expand the park, and to create a high-quality connection to the river channel.
Cudahy City Park - This small park, located at 5220 Santa Ana Street in Cudahy, is accessible via the South County Bike Path.
Hollydale Park –This riverside park has soccer fields, a three--mile cross country course, picnic facilities and more. It is located on Monroe Avenue. near the intersection of the Century (110) and the Long Beach (710) Freeways in the city of South Gate,
Ralph C. Dills Park – Named in honor of a state senator, this park, located at 6500 San Juan Street in Paramount, features picnic tables, a playground, a walking and jogging path, a basketball court, restrooms, and grassy areas.
Golden Shore Marine Biological Reserve Park - This 9.1 acre park sits at the eastern edge of the mouth of the LA River near the spot where it empties into  Long Beach Harbor. A is bird watcher's paradise,
Palm Beach Park – This little park overlooks the mud flats at the estuary where the shorebirds gathers.
Shoreline Aquatic Park – This park looks out on Long Beach harbor, right next to the end of the LA River. A lighthouse sits on a grassy knoll where meandering paths offer great vistas of the marina and surrounding area.
Bixby Park -  This 16.7 acre park in Long Beach features: a bandshell/stage, a community center, playground, a skate park, picnic area, volleyball court. It was part of the original Rancho Los Alamitos owned by the Bixby family.

Santa Cruz Park - 1.9 acres with benches, at the intersection of Shoreline and Ocean Blvd.in Long Beach
 TRIBUTARY PARKS
ARROYO SECO PARKS
Woodland and Wildlife Park – Located in South Pasadena, this three- acre park sits on the south bank of the Arroyo Seco, less than a mile from the arroyo's confluence with the LA River.
Hermon Park – At 5566 Via Marisol in Los Angeles, this small park in the Arroyo offers barbecue pits, a children's play area, picnic tables, and lighted tennis courts.
Montecito Heights Recreation Center – Located at 4545 Homer Street in LA, this park in the Arroyo has an auditorium, indoor and outdoor basketball courts, a children's play area, an  indoor gym with weights, picnic tables, and tennis courts and volleyball courts.

Lower Arroyo Seco Nature Park - With 150 acres, this area is filled with activities and facilities: a fly casting pond and an archery range, each with a club house, and a community center. The open space here is dotted with groves of mature trees, a perfect spot for bird watching. Find parking off from Arroyo Boulevard, just south of the Norwood Drive. 
Sycamore Grove Park  - Located at 4702 N. Figueroa St, in the Arroyo, this park offers barbecue pits, a children's play area, picnic tables, lighted tennis courts, a band shell, and a concession stand. In the summer, the park is the site of a performing arts festival
Ernest Debs Park  - This mid-sized park at 4235 Monterey Road in the Arroyo has 100 picnic tables and 20 barbecue pits.
RIO HONDO PARKS
Whittier Narrows Recreation Area – Located in the City of El Monte, this 1,492 acre facility fronts the Rio Hondo tributary and is one of LA County's largest and most popular recreational areas. It features a range of activities, including BMX biking, riding along equestrian trails, rifle ranges, and fishing in Legg Lake.
Rio Vista Park - A small 1.5 acre park just off the Rio Hondo river in El Monte.
Peck Road Park - This El Monte park boast fishing, walking or bike with an amazing view of the lake. The nearby northern extension of the LaRio Bike Path runs along the northwestern edge of the park.
Pioneer Park - A small park in El Monte next to the Rio Hondo river.
Fletcher Park - A small park in El Monte next to the Rio Hondo river.

Crawford Park - A small park just south of the Rio Hondo.
Reggie Rodriguez Park - This little park in Montebello features a nice baseball field.
Treasure Island Park -  A nice little park in Downey with a lot of barbacue grills and trees on the Rio Hondo bike path.
Bosque Del Rio Hondo Park – A 5-acre park located at 9300 San Gabriel Blvd in South El Monte, this site lies within the Whittier Narrows Recreation Area. It offers year-round trail access to one of the remaining natural stream beds of the Rio Hondo, as well as to seasonal creeks. Visitors will find picnic areas, access to bike paths and equestrian trails, parking facilities, and restroom facilities. The park design visually integrates the natural riverfront with the adjacent land. and provides a riverfront setting for those who want to simply walk or relax near the river. There is plenty of paid parking as well as safe, free spots on neighboring Rush and Lorna Streets.
Legg Lake Park -  A lovely lake surrounded by walking and bike paths.
Grant Rea Park - The park boasts a sunken baseball diamond and the Barnyard Zoo. Plaques in the park identify the natural features and wildlife, like Western toads, Pacific tree frogs and salamanders, found along the lower Rio Hondo.
John Anson Ford Park – This park, located at 8000 Bell Park Lane in Bell gardens,  has a golf course, playground, restrooms, baseball and soccer fields, basketball courts and a swimming pool. Across the river are the open spaces of the Rio Hondo Country Club.
View
Parks
in a larger map