River Musings - an LA River blog
Viewing entries posted in July 2011
Posted by on 27 July 2011 | 0 Comments
A bit late but significantly under budget, the Colfax Avenue bridge, which spans the Los Angeles River in Studio City, will re-open tomorrow. The new bridge, wider and earthquake-ready, had been under construction since July 2009.  From an article in the LA Daily News:
The $9.4 million project - which came in $1.3 million under budget - replaced the bridge over the Los Angeles River with a wider structure that meets seismic codes.

A bike path and pedestrian foot-bridge at the foot of the bridge will be completed by October, officials said.

"It's a great feeling of satisfaction to get to a point where the bridge is now actually going to be completed," said City Councilman Paul Krekorian, who represents the area. "It's going to be a great addition to the community, and we're going to get life back to normal in Studio City."

Reconstruction of the bridge, located between Ventura Boulevard and Chiquita Street, was slated to begin in November 2008, but delays in awarding the contract delayed it until July 2009.

Flooding during rainy season caused additional delays in construction, which was supposed to take 18 months.
A final inspection this week gave the green light to a grand re-opening tomorrow, complete with ribbon-cutting. For more details, click the LA Daily News story here.
Posted by on 25 July 2011 | 0 Comments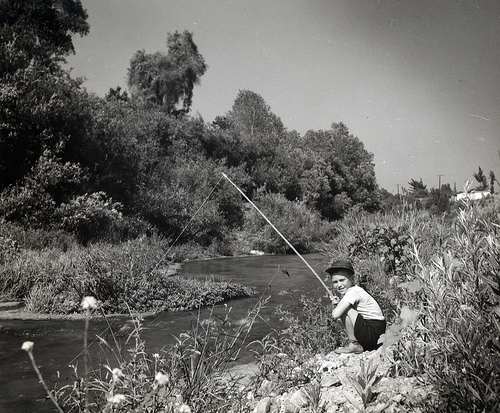 The great LA blog, LAist, has been celebrating National Parks Month with a look each day at a different bit of open space in our fair city. Last week, contributor Heather Pariato wrote a mash note to the Los Angeles River Greenway in the Elysian Valley:
Over years of biking down the Los Angeles River path between Burbank and Downtown, I've watched the Los Angeles River Greenway's efforts bring new enhancements, public spaces and pocket parks along the river. They're small and sparse through Elysian Valley, but I thought I'd give them a nod, since they have brought more green space to the city, themed on the wildlife found in the area.

If you're driving down Riverside Drive toward downtown, you might have noticed Oso Park and Egret Park from the road. These two parks are at the southern-most part of the river bike path before it ends in downtown. Oso park is a nice sitting area with an iron sculpture of a bear, surrounded by sycamore trees among quiet streets in Elysian Valley. Egret Park marks the end of the path with shaded benches looking out over the river, with interpretive exhibits about the wildlife and native plants you might find here. Though not continuously occupied, Egret Park is a great resting spot for those enjoying the river bike path, and the neighborhood around Oso Park was alive with morning walkers on my last visit.
Heather goes on to cover Steelhead Park, Rattlesnake Park and Elysian Valley Gateway Park. For details about flora, fauna and a bit of history, check out the her entire post, on the LAist web site here.
And need we say it? Everything you want to know about parks on the Los Angeles River, including how to get there, where to park and what you can expect to see, in our great Guide section.
Vintage photo of a boy fishing the LA River from KCET's Flickr stream, via Creative Commons.
Posted by on 22 July 2011 | 0 Comments
A true friend of the Los Angeles River, LA City Councilman Ed Reyes plans to make our favorite waterway the focus of his final term in office. A former city planner, Reyes has always had a special place in his heart -- and on his legislative agenda -- for Los Angeles' often-beleaguered river. From a profile of Reyes in City Watch LA:
There have been great strides in rehabilitation and returning nature to the flow of what was known two centuries ago as El Río de Nuestra Señora La Reina de Los Ángeles de Porciúncula. But some in the district also worry that development of the river might mean overdevelopment.

During the long process of rehabilitation, Reyes has visited over seventy urban river settings around the country. He much admires Denver's riverfront, where the long-neglected South Platte became part of the city's much heralded greenbelt revolution in the 1990's.

Local political luminaries acknowledge Reyes' work on the river as especially exemplary of his urbanist visions as a Councilman, and expect him to finish his term of office with a Porciúncula flourish.

"Ed Reyes' planning background certainly pays off when it comes to Los Angeles River renovation," County Supervisor Gloria Molina told street-hassle in an email. "It requires someone with vision, practical know-how, and the patience to coordinate all the bureaucratic agencies necessary to make river revitalization actually materialize. Ed has it."
For more of the Reyes profile, click here. And to learn about the part city officials are playing in bringing the Los Angeles River back to vibrant life, please browse the Revitalization section of our web site.
And look! A special section on how you can get involved.
Posted by on 20 July 2011 | 0 Comments
In the absence of any real Los Angeles River news today, how about a really nice Los Angeles River photo?
This one, of the river at Burbank Boulevard, comes from the Flickr photo stream belonging to Al Pavangkanan.
Where is that, you ask? We happen to have that answer -- and plenty more -- right here, in the Guide section of our web site.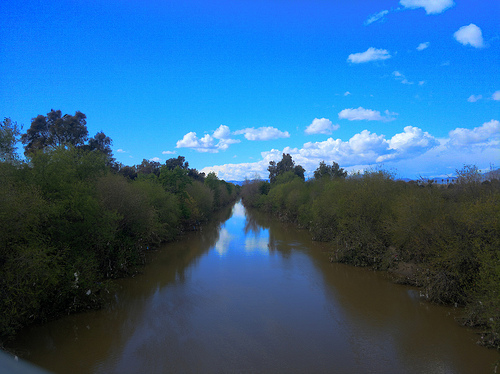 Photo via Creative Commons on Flickr.
Posted by on 18 July 2011 | 0 Comments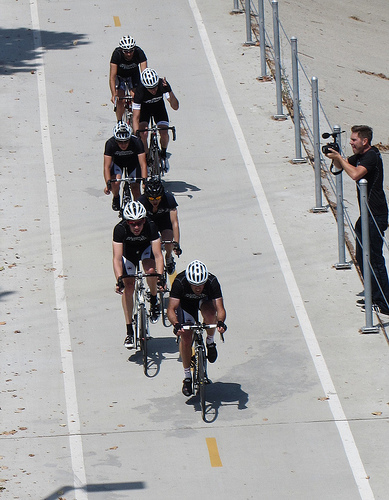 Among the myriad stunts, pranks and promotions that grew up around the build-up to last weekend's Carmageddon was an offer by Jet Blue of $4 tickets for a flight from Burbank to Long Beach. The flight filled up immediately and thanks to a tweet by Tom Vanderbilt, the author of "Traffic", it soon turned into a race between cyclists and the jet. Here's Vanderbilt, explaining the genesis of the idea in Slate:
And so, Thursday morning, I tweeted the following:

Given airport travel time, security, runway delay, etc., I'd bet a good cyclist could travel BUR to LGB faster than Jet Blue. #carmageddon

I made this remark knowing nothing about the actual route involved, using very crude math: If, say, a Tour de France cyclist averages around 30 mph, surely someone who was fairly fit could do it in two hours or under. @bobtimmerman pointed out that on Google Map's "Bicycle" option, it was a three and a half hour trip. But who was Google's "average" cyclist, and how fast could they go? "Variable" seemed to be the most common response, though @sumnums chipped in an actual number: "It's usually 12 mph for the routes I've queried."

And so the conversation lingered, in hypothetical drift, until @garyridesbikes laid down the gauntlet: "riding in pace line formation /w @wolfpackhustle, I'm sure we could kick Jet Blue's ass in door to door travel time."
The cyclists, savvy two-wheel activists with encyclopedic knowledge of the city, chose the most direct route -- the bike paths of the Los Angeles River. Ezra Horne, the blogger against whom they were racing, hopped on the plane.(Check out his YouTube video of his pre-race prep right here, and the twitter feed of those tracking the jet v. bike race here.)
Need we say it? The LA River-riding cyclists of the Silver Lake-based Wolf Pack Hustle won the race.
For everything you need to know about biking the LA River, check the exhaustive (but never exhausting) Biking section of our web site.
Photo of Wolf Pack Hustle from Waltarrrr on Flickr, via Creative Commons.
Posted by on 15 July 2011 | 0 Comments
Great news for fans of the Los Angeles River -- the spot where our favorite waterway starts its official march from Canoga Park to Long Beach will soon become Ground Zero for more than a mile of recreational trails. Details from Zev Yaroslavsky's blog:
The Board of Supervisors accepted a $1.97 million state grant to help launch construction of the Los Angeles River Headwaters Project, which eventually will create more than a mile of recreational trails at the point where the storied urban river starts near Canoga Park High School in the San Fernando Valley.

Tentatively scheduled for completion in 2013, the Headwaters Project is part of a larger plan to reclaim and revitalize the river, which runs for some 50 miles through 13 cities, including Los Angeles, before it empties into the ocean at Long Beach. 
You'll find drawings of the proposed project here, and lots more info about where to go and what to see on the Los Angeles River in our great Guide section.
Posted by on 12 July 2011 | 0 Comments
A nice bunch of blog posts this week about the LA River, ranging from thoughts about the river's watershed, to government and gardens. For instance:
Jesus Sanchez, writing in his award-winning blog The Eastsider LA, talks about city planners turning their attention to river-side design:
...the city's  Planning Department has continued to refine a much more modest set of guidelines that would apply to all new construction along the river. The guidelines would require, among other things, that larger property owners provide an entrance or access to the river, hide parking lots and mechanical systems behind screens; and...
One comment on the post says having a river in the neighborhood is like winning the lottery. Lots more info at Jesus' full post here.
Over at the lovely and thoughtful blog, LA River Fly FIshing (tagline: Fishing for carp, waiting for steelhead), a meditation on the LA River's watershed, and questions about what, if any, purpose the Brown Mountain Dam serves today.
You've got to ask yourself, why, with the county ready to pour some $32 million into dredging and dumping the area above Devils' Gate Dam, this little gem goes unnoticed.
More good questions -- and even better writing -- in the full post here.
Did you know there's a site and blog devoted to the day the LA River is open to boating? LA River Expeditions -- give it a look.
If you've ever enjoyed the shade and green of trees along the pedestrian pathways of the LA River, chances are you've got landscape architect Scott Wilson, and the community group, North East Trees, to thank. From the LA Times' addictive garden and design blog:
Many of the 35 parks and street plantings done by North East Trees are along the Los Angeles River. Wilson's group is working on the Glendale Narrows Riverwalk, a half-mile pedestrian and bike trail near Griffith Park (a portion is shown at the top of the post).
Lots more info on Wilson and the group in the full post here.
For a touch of the country, Randall Mah of the Chatsworth Patch site suggests a visit to the Brown's Creek bike path, which runs along an LA River feeder in a rural part of Chatsworth:
Roosters crow, birds chirp, and horses snort as sweaty hikers and bicyclists navigate uneven paths and twisted tree roots. Benches sheltered by drooping branches invite adventurers to escape the July heat, the setting sun having painted the sky lavender and pink. The trickle of the nearby creek and the tapping hooves of two black ponies walking with their owner soothe the weary traveler.

"It's really pretty. Very rustic," says Thomas Nolasco, 59, as he walks towards the northern end of Browns Creek Bike Path in Chatsworth on a Saturday evening, temperatures still in the 80s.
Tons more details and ambiance at the full post, from the Chatsworth Patch site, right here.
For a family day of LA River activities, look no farther than this very web site -- our guide to kid-friendly activities is right here.
Posted by on 1 July 2011 | 0 Comments
There's our web site, of course, an unabashed love letter to the Los Angeles River, and a whole host of other people and organizations who have lost their hearts to LA's mistreated and misunderstood waterway.
Today, we're touching on a trio of river enthusiasts, such as The Village Gardeners. A group of residents devoted to taking care of the river and its habitat between Coldwater Canyon Avenue and Fulton Avenue in Studio City & Sherman Oaks, they embody the "think local, act global" philosophy. Check out their web site for pix of their good works, and ways to get involved.
You can't talk about loving the Los Angeles River without mentioning Friends of the LA River (that's FoLAR) the group that's ground zero of the movement. Lots of info and tour dates at their web site.
And speaking of tours, FoLAR's own Jenny Price has a fantastic tour later this month with Hidden LA. Explore the Los Angeles River from Elysian Valley all the way to Long Beach.  Info on times and how to get tickets at the Hidden LA seb site.
And thank you to Chris Austin, for letting us use this shot of the LA River as it moves through (and nourishes) the Sepulveda Wildlife Area. You can find her entire series of pix at her Flickr site, Aquafornia.
Want more pix? We've got hundreds right here, river bridges and history and some hopes and plans for the future.
Enjoy the long holiday weekend -- and we'll see you on the river!
Photo used by permission of Chris Austin, via Creative Commons on Flickr.