River Musings - an LA River blog
Viewing entries posted in June 2011
Posted by on 29 June 2011 | 0 Comments
As the water and wildlife habitats of the Los Angeles River continue to improve, an increasing number of birds and animals are making our favorite waterway their home. Case in point, the great blue heron and great egret caught in this photo by Sarah Char, a first-time river visitor who is now a convert to the city's hidden gem.
Eager to find your own waterfowl? The Audubon Society has just the thing --  a shore bird migration field trip along the lower LA River on August 27. Led by Kimball Garrett, local birder extraordinaire, participants will get a guided look at some of the 133 species spotted along the river in recent years. Reserve early to be assured a spot.
Can't wait until August? Then check out our great Guide section, with everything you need to know about bird watching, including the top 20 birds you're likely to see.
Send us your river stories and pix and we'll post 'em.
Photo used by permission of Sarah Char on Flickr.
Posted by on 27 June 2011 | 0 Comments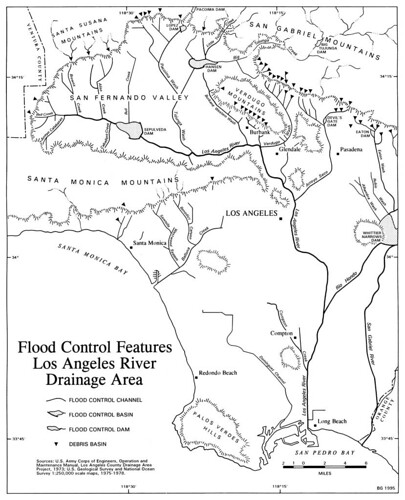 The Los Angeles River is one of seven test subjects chosen for the Urban Water Federal Partnership, an amalgam of 11 agencies working in concert to improve water quality and resident access to urban rivers. LA's fellow riparian areas are Maryland's Patapsco watershed, the Anacostia Watershed in D.C., both the Bronx and Harlem River watersheds in NYC, the South Platte River in Denver, Louisiana's Lake Pontchartrain area, and the Northwest Indiana area.
Zach Behrens blogs the news over at KCET:
Cities were chosen because restoration efforts have already begun at a local level. In the Los Angeles River Watershed, projects already in the works noted by the government include the South L.A. Wetlands Park, restoration to the Station Fire burn area, the turning of Elmer Avenue in L.A. Sun Valley neighborhood into a "green street," and improvement's to the 52-mile Los Angeles River.

"There is a range of health and environmental challenges facing our urban waters today -- but each challenge is matched by an incredible opportunity to transform distressed urban waterfronts into centerpieces for community revitalization," said EPA Administrator Lisa P. Jackson.

A plan to make the Los Angeles river a city centerpiece was actually proposed long ago. "Continued prosperity in Los Angeles will depend on providing needed parks," urban planner Frederic Law Olmsted Jr. Olmsted argued in 1930 before the waterway was channelized for flood protection "Because, with the growth of a great metropolis here, the absence of parks will make living conditions less and less attractive, less and less wholesome. . . ." The plan was never adopted, but the current master plan to revitalize the L.A. river incorporates many of Olmsted's original concepts.
Lots more -- and an interesting video -- In Zach's full story here.
Over at the Huffington Post, an interview with river activist George Wolfe.
And here on our own web site, a wonderful gallery of photos of the Los Angeles River, including these historical ones.
Posted by on 24 June 2011 | 0 Comments
Lots of talk today about a pilot program to allow small groups to float down a small portion of the Los Angeles River this summer. (Considering that a few short years ago the LA River didn't even rate as a navigable waterway, we're grateful for small favors.)
The good news -- the fact that this is happening at all. The challenges -- the trips require reservations, they're going to cost fifty bucks, and a web site to sign up for a float trip has yet to be launched. Here's Zach Beherns, writing in KCET's lovely blog, SoCal Wanderer, with more details:
On July 8th, a number of groups are collaboratively planning to open up a small portion of the river for a limited number of guided kayak tours throughout the summer. Twice a day on weekends, groups of 10 to 14 will be taken onto the waters of the Sepulveda Basin in the San Fernando Valley. Trips along the 3-mile portion will last a few hours and include educational components.

The program is currently under an environmental review by the U.S. Army Corps of Engineers, which is seeking comments, positive or negative, through the end of June.

All told, only a few hundred will be able to participate this summer, but officials have emphasized this is a pilot program, which in future years could be expanded to the Glendale Narrows and Long Beach estuary. A further step could include boating individually, without the need of guides.
And speaking of kayaking the river, Conan O'Brien and Andy Richter took to the water, according to Canadian blogger David Johnston. He's got some funny screen grabs from a (now-deleted) YouTube video of the stunt fiasco paddle trip.
For more info on the ins and outs (and legalities) of riding the river, check out the Boating section here on our web site.
Posted by on 22 June 2011 | 0 Comments
Checking in with the news cycle, the Los Angeles River, aka our fave waterway, is making a bit of a splash:
Over at The Eastsider LA (named LA's best neighborhood blog by the LA Weekly. btw) Jesus Sanchez reports that the American flags normally seen on the Los Angeles River's Glendale Hyperion bridge are gone. The reason? Money. Well, the lack of it. But there's hope, Sanchez says. The full post is here.
Remember those Canadian rock 'n' rollers who got cited for canoeing down the river during the rainy season? Their legal woes aren't over yet, says Debroah Griff at Studio City Patch.
Water activist Emily Green, writing in the LA Times about the dry garden, looks in on the LA River.
A story about tours of river graffiti (and LA gangs) make the Syndey Morning Herald.
And may we interest you in a magical history tour of the Los Angeles River? All you need to do to get there is click the About link right here on this site, for the LA River's story, a virtual tour, and (this is SoCal after all) the river as Hollywood's back lot.
Posted by on 20 June 2011 | 0 Comments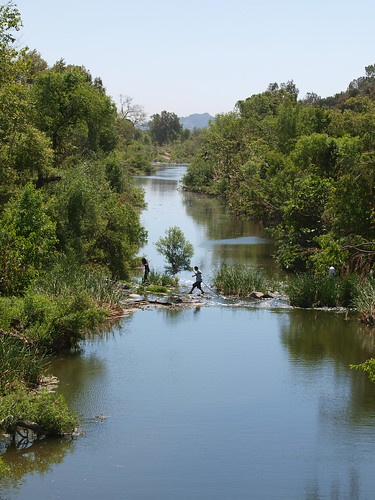 Good morning, and welcome to another Monday. For those of you playing hooky taking a personal day, may we suggest an LA River getaway?
Use our detailed Guide section for ideas about where to walk or bike or yes, go fishing. It's a great time for bird watching, too. And with tomorrow's solstice bringing us the first day of summer, you can pencil in some future outings as well.
Photo: US Army Corps of Engineers, via Creative Commons on Flickr.
Posted by on 15 June 2011 | 0 Comments
As the region's population swells and water reclaimation technologies become ever more sophisticated, the need to conserve is being met with surprising new methods of recycling. Case in point -- the L.A. Department of Water and Power's year-long study into whether recycled sewage can, through 21st century treatment methods, be turned into drinking water.
From Dana Bartholomew, staff writer at the LA Daily News:
Los Angeles wastewater may soon become cleaner than a mountain spring.

But officials say a plan to spend $700 million to recycle sewage into drinking water rests on the future of rates being proposed today.

"One of our key strategies to becoming less reliant on imported water is to recycle water," said James Yannotta, assistant director of water resources for the Department of Water and Power. "Through `purple pipe' for industrial or commercial purposes, or groundwater replenishment to the point where it is essentially distilled. "It is cleaner than any other water."

Yannotta was standing inside the Donald C. Tillman Water Reclamation Plant in Encino, not far from the site where the DWP is wrapping up its year-long study in advanced water treatment.

The plant already sends 40 million gallons of reclaimed water each day coursing into Lake Balboa, across the golf links and surrounding athletic fields of the Sepulveda Basin, through the DWP steam plant in Pacoima, and into the Los Angeles River and out to sea.

Advanced treatment would further purify some of that water, which would be used to replenish the wells under the San Fernando Valley. Not to be confused with the "toilet-to-tap" plan of a decade ago, the new groundwater replenishment system would add extra layers of high-tech cleansing.

It would also be based on the successful indirect "potable reuse" project employed since 2007 by Orange County.

The city plans to highly purify up to 30,000 acre-feet of treated water a year - or 5 percent of the city's average water use - then inject it into water wells beneath Hansen Dam. An acre-foot is about 326,000 gallons.
Read the full story, "From Toilet to Tap"  (great headline, btw) here.
And for you sketpics out there, learn more about the actual H2O in the Los Angeles River in the Water Quality section of our web site.
Posted by on 13 June 2011 | 0 Comments
As you can tell from the our extensive and detailed guide to the Los Angeles River, we're devoted fans of LA's least-known waterway. Part of the fun is seeing how others enjoy the river -- case in point, tales of last weekend's LA River Ride, the annual benefit for the LA County Bike Coalition, keep popping up.
If you missed the ride, not to worry -- we've got all the info you need to go it on your own. Click through our section on biking (or hiking or horseback riding for that matter) for everything you need to know, from parking, routes and stuff to do along the way.
Need an LA River fix right this second? Then check out this fun video shot on last week's bike ride.
Posted by on 9 June 2011 | 0 Comments
Hundreds of cyclists in each of six divisions took to the banks of our favorite waterway on Saturday in this year's LA River Ride, the annual fundraiser for the LA County Bicycle Coalition. LA Mayor Antonio Villaraigosa and actor Austin Nicols, this year's Grand Marshal, kicked things off in Griffith Park, the event's starting point. Rides varied from short stints for kids and families, to a century ride for hardier cyclists.
Check out pix from Laurence Gelosi's web site (scroll a bit to find the slide show). More pix (including these on our blog) at The City Project's flickr stream.
And be sure to check out the detailed info on all the bike rides available on the LA River in our great guide section.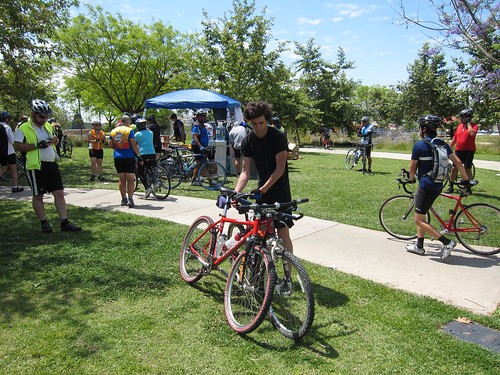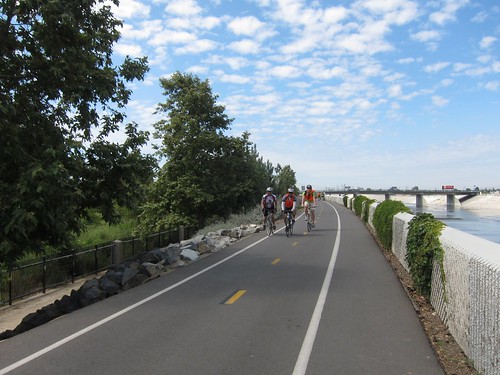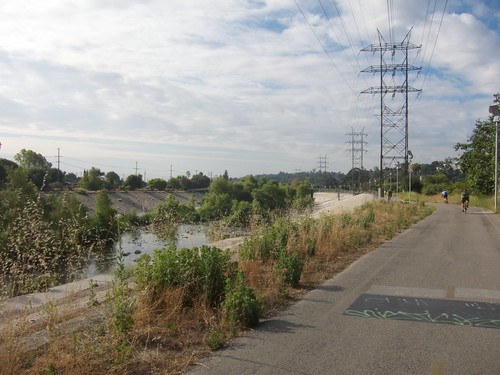 Photos of LA River RIde 2011 from The City Project, via Creative Commons on Flickr.