River Musings - an LA River blog
Viewing entries posted in May 2011
Posted by on 29 May 2011 | 0 Comments
Check out today's New York Times for an interesting self-portrait of Don Spivack, the former deputy chief of operations for the Community Redevelopment Agency of the City of Los Angeles. Spivack, who found retirement didn't quite agree with him and has returned to the CRA as a consultant, had a part in creating the LARRC two years ago.
I work 15 to 20 hours a week and can largely decide my own schedule. I've begun volunteering with the Los Angeles River Revitalization Corporation, an organization I helped create in 2009. I'm also talking to a community group that deals with environmental justice in Los Angeles about working with them either as a volunteer or a paid consultant.
The full story is here.
For more info about how the Los Angeles River Revitalization Corporation was founded, its mission, and its members, visit the LARRC page of our web site. You'll find bios of the board, info on projects, and for those of you who want to get involved or simply know more about our city and the Los Angeles River, a schedule of LARRC meetings.
Posted by on 23 May 2011 | 0 Comments
Who loves the LA River? More than 700 school kids, who joined 100 Paramount Pictures employees for FoLAR's annual River School Day.
A botched parrot rescue landed a woman in the LA River.
Another entry into the learn-about-LA genre: an LA River wiki.
The Los Angeles River makes it onto the City Council's agenda this week.
Can't get to the Los Angeles River in person? Make a virtual visit via LA Noir, a video game that lets you play detective in '40s-era Los Angeles. Locations include -- you guessed it -- the Los Angeles River. More about LA Nore and our favorite river here.
For hands-on types, info on how and where and when (and why) to visit the Los Angeles River right here, in our great Guide section.
Posted by on 16 May 2011 | 0 Comments
It's been a great spring for the Los Angeles River, what with a record-breaking clean-up, the scheduled bike ride next month, and now a segment on the Travel Channel's new show, "Off Limits".  Tom Conroy, writing for Media Life Magazine, has the details:
The premiere episode, airing tonight at 9 p.m., explores obscure corners of Los Angeles and shows how they illuminate the history of the city. This being L.A., it's not surprising that so much of the hour concerns water and real estate.
 
The host, Don Wildman, first pushes through a chain-link fence to go kayaking in the Los Angeles River, which for most of its length is a concrete culvert. He's accompanied by an attractive biologist, Heather Wiley, who formerly worked for the Army Corps of Engineers and is now campaigning for the city to rehabilitate the banks of the river. She was nearly suspended from her job when she publicized the fact that the corps was considering changing the status of the river to that of a drainage ditch, which would have exempted it from many environmental protections.
 
The river was channeled back in the '30s after a devastating flood. Wildman's narration points out that local real estate developers stood to profit as well.
 
Wildman then goes into the desert to explore the L.A. Aqueduct, the construction of which was the inspiration for the movie "Chinatown." In what he says is the first time a film crew has entered one of the tunnels, he travels with a repair crew through a long stretch.

WIlliam Mulholland, Abbot Kinney and the ruins of a one-time Nazi survivalist compound are all part of the story. Read the rest of Conroy's piece here.

For more info and details about the LA episode, here's the link.
Posted by on 11 May 2011 | 0 Comments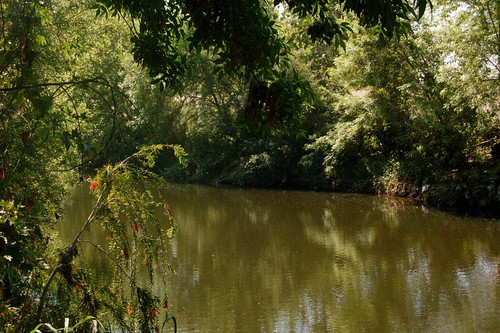 Whether you're an LA River regular with favorite spots for walking, fishing, sunning and bird watching, or someone just discovering our city's waterway, civic leaders want to know -- how do you use the river? Weigh in with answers to questions about how, when, where and why you visit the river on the quick and easy questionnaire now posted on KCET's fine blog, Departures.
And while you're at it, take a quick cruise through our web site for great info on the Los Angeles River's recreational opportunities, film career and it's storied history.
Posted by on 9 May 2011 | 0 Comments
Ready to get to know the LA River a bit better? Then sign up for the 11th annual Los Angeles River Bike Ride, taking place on Sunday, June 5. From the web site:
Sign up today for the 11th Annual Los Angeles River Ride! This is L.A.'s premiere bike event! You don't want to miss it. If you've done it before you know how awesome it is and how from year to year it just gets "awesome-er!" We have a new pit stop in Hollenbeck park, better food and YES, FINALLY the portion of the bike path between Fletcher and N. Figueroa/Riverside Dr. is open. Check out the below video of the ribbon cutting ceremony.
The event features six seprarate rides, depending on how fit (or ambitious) you are: a 100-mile ride, a 70-ile ride, a 50-mile ride, a 36-mile and a five-mile ride, and a kids-and-family jaunt. The rides start and end in Griffith Park, where participants can browse an Eco Expo, dine their way through an international food fair, try their luck with a raffle, or just enjoy the atmosphere. (And free music.)
For info on how to enter and how much it costs, click here. If you're a serious cyclist, you should check out the LA County Bike Coalition.
And be sure to visit the Biking page of our Guide Section, with detailed info on 11 different LA River bike rides.
See you on the LA River!
Posted by on 4 May 2011 | 0 Comments
WIth titles like "Float On", "Concrete Veins" and "To the River", local LA river fans penned odes to the city's waterway. Check out the entries -- and the multiple winners -- on the Songs of the LA River website.
Posted by on 1 May 2011 | 0 Comments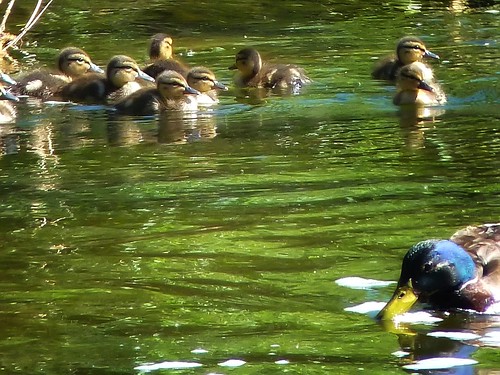 An estimated 5,000 volunteers in 14 spots up and down the LA River gathered on Saturday to clean up and clear out our favorite waterway.(Mayor Antonio Villaraigosa was among those doing their civic duty, CBS reports.)
According to Shelly Backlar, executive director of Friends of the Los Angeles River, Saturday's turnout easily topped the previous record of 3,000 volunteers. From the Glendale News-Press:
Shopping carts, auto parts and sopping-wet clothes were part of the haul Saturday morning as more than 400 volunteers fished trash out of the L.A. River at Griffith Park.

Teams of volunteers fanned out on the concrete levee near Bette Davis Picnic Grounds in Griffith Park, wading into the water and rock-hopping among the reeds to retrieve PVC pipe, cans, bottles and more during the 22nd annual Friends of the Los Angeles River cleanup.

It was a record-breaking day, said Friends of the L.A. River Executive Director Shelly Backlar. Between 4,000 and 5,000 volunteers visited 14 spots on the river Saturday, surpassing the previous top turnout of 3,000.

Backlar said the effort bodes well for her group's Urban River Challenge with the Friends of the Chicago River to see who can draw in more volunteers, pull out more trash and earn more Facebook friends this spring.

The cleanup day, she said, "is not just about trash. It's about people saying, 'Wow, we have a river, and it's a pretty nice river. It's not the river we see in 'Terminator 2.'"
Volunteers remove more than 20 tons of trash during each annual clean-up, leaving a nicer environment for inhabitants like these ducklings, who call the river home.
For more info on the wildlife on the LA River and how to see it, check the great Guide section here on our web site. And if you missed the conversation last week between Patt Morrison and Lewis MacAdams, co-founder and president of FoLAR, river's oldest activist network, you'll find the podcast here.
PHOTO: Greg Lilly on Flickr, via Creative Commons.